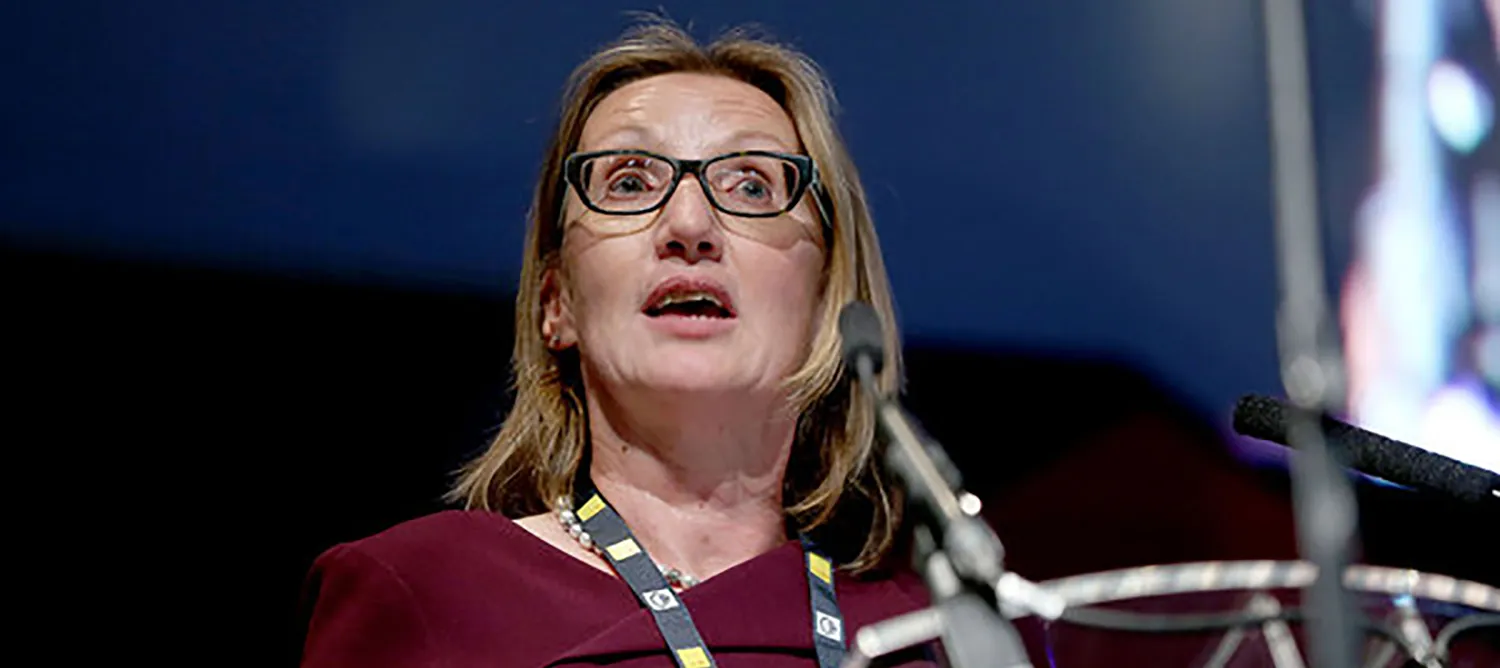 President of CIH Housing 2022 Speech
Homeownership must not come at the expense of the poorest households, says CIH president
Jo Richardson, closed the main auditorium on day three of the Housing 2022 conference in Manchester with an impassioned speech that praised the hard work the sector does, but also highlighted areas for concern in a number of recent legislative and policy announcements.
One area of concern was the announcement by the Prime Minister earlier this month which indicated the government planned to extend the Right to Buy to housing association tenants.
The extension was not met with much support from the sector and the boss of Shelter, Polly Neate, described it as "a dangerous gimmick".
Ms Richardson told delegates: "CIH is supportive of measures to help people into home ownership, but it must not be at the expense of the poorest households who are most in need of social housing.
"The promised one for one replacement of social homes lost through right to buy never materialised and we have seen the number of social housing homes for rent fall, taking that option out of the market.
"I really do want to emphasise here how important properly affordable, social housing is to a functioning market."
With over 1.1m households on waiting lists for social housing and with the number of households living in temporary accommodation nearly doubling in the last decade, Ms Richardson said the UK is at "a point of crisis".
She added: "By any measure, we ought to be focusing investment on building more social homes, not selling them off."
She also raised concern about some of the proposals to the planning system that were outlined in the Levelling Up and Regeneration Bill.
The bill, published last month, contains a number of important changes for the housing sector.
Alongside implementing many of the proposals outlined in February's Levelling Up White Paper, the bill brought forward a number of ideas from 2020's controversial Planning White Paper.
While the most radical parts of the Planning White Paper, such as the introduction of a zonal planning system, have now been abandoned, a new Infrastructure Levy to replace Section 106 remains.
One witness at the Levelling Up, Housing and Communities (LUHC) Committee last week said it was "delusional" to introduce changes to a system that is already broken at such a scale.
While Richardson welcomed its aims to address inequalities across the country she warned that the "proposed changes to the planning system could undermine delivery of new housing, including much needed social rented homes".
She acknowledged that housing policy is complex and interconnected and can be hard to get right, but she struck a more optimistic tone as she brought the session to a close.
She said: "We, in this room, the housing professionals who care about the future of our communities, who have many, many years of combined wisdom and experience can help.
"By working together, it is possible to craft a functioning housing system that truly works for all and to make real and lasting change.
"To achieve our collective goals, we need a cross-party long-term housing strategy that addresses the pressures people are facing today whilst also looking to the future."